Current ArtBomb



ArtBomb Festival - Multiple venues - August 2021.
The images of Bi-polar Abdul are installed in the windows of the venue

Location: The Unitarian Church, Hallgate & The Leopard

Expect the unexpected as Doncaster welcomes ArtBomb: an open platform arts festival, spreading across public space and spilling onto the street. This three day event is engineered through the collaborative efforts of Doncaster Creates, The New Fringe and True Tone. Situated around Doncaster's hidden architectural and cultural jewel, the Unitarian Church on Hallgate, the festival aims to spark discussion, challenge ideas and foster a new sense of curiosity. As we collectively step from our homes and back outside, we bring art into the urban realm through experimental performance, installations, music, film screenings, workshops and everything in between. With a focus on a new generation of diverse creative practitioners, ArtBomb also fosters the growth of emerging creative producers and students by providing live mentorship and talent development through live production, festival management and public engagement. ArtBomb is funded by The Arts Council North and DCLT, and in partnership with The Point, Right Up Our Street, Art of Protest Projects, Doncaster College, D31 Gallery, Doncopolitan, CAST and Pride.

Exhibition

Opening on August 5th and running through September 29th next to the Unitarian Church, Birdsong features newly commissioned works by 14 local artists. The title of this exhibition highlights what we heard during lockdown: the absence of the usual hustle bustle sounds emitting from humans, with the replacement of birdsong. The works explore the impact of Covid 19 as the artists capture our condition through different artistic approaches. Artists featured in this exhibition include Sarah Villeneau, Mandy Keating, James Lockey, Ian Byatt, Sacha Gray, Vicky Morris, Raj Madaan, Angela Robson, Amelia Londsdale, Les Monaghan, Natasha Clarke, Sarah Smizz and Warren Draper.

Art forum

Aptly titled Public Art to Street Art, this one day forum features presentations, workshops and roundtable discussions which take place on Friday the 6th of August at the Unitarian Church. An event for artists, curators, urbanists and writers to challenge how we think of art in the public realm. We will hear from renowned public art curators including Tamsin Dillon and Laurie Peake with other speakers to include street artists Yola, STATIC, Natasha Clark as well as sculptors Sophie Ernst and Lewis Morgan. We will hear from artist/architects Matthew Rosier, whose public art installation is featured outside of Tate as well as Studio Polpo, who currently represents the UK at the Venice Architecture Biennale. Additionally the forum features talks with eco-artists Heather Ackroyd and Dan Harvey. Together these celebrated individuals will discuss creative connections, social agency, effective responses and the relevance of contemporary urban interventions to form a critical understanding of people and place. As 'high street collapse' provides new opportunities for reimagining urban space, how do new forms interface with public art policy and the work of regenerative arts programs?

Interwoven into the forum is the Parallel State in collaboration with Olivia Jones and Doncapolitan, who have invited a number of people to respond to the following provocation: What Does a Northern Town Look Like in the Parallel State and what happens in it's public spaces? All citizens in the Parallel State are equal and not bound by geographical restraints and prejudices. Without a north:south binary, how will Doncaster's past inform this reimagined version of itself? If Doncaster were self governed, what would it look like? How would it interact with other urban and rural communities? What would its public spaces look like? Expect speakers, performances, thoughts from young people, a backroom polling station and a temporary tattoo parlour. Speakers will include drag performance artist Bipolar Abdul, Clare Devaney who is Strategic Lead for Place & Culture in the North, award winning Doncaster artist Sarah Smizz and Olivia Jones, who represents Parallel State and serves as the creative director of Doncopolitan.

Performance and music

New promenading performance work and experiments will be presented around Hallgate by Gillian Dyson, Warren Draper, Sacha Grey, Filippos Tsitsopoulos and 'Jackhno' of Buffland Beat Collective. Additionally featured is Garden Sessions, an independent live music event produced by singer-songwriter August Charles. In a time where live music was put on hold, Charles saw an opportunity to spotlight musicians digitally by producing a series of youtube videos featuring performances in Doncaster's Walkers Nurseries gardens. As lockdown lifts, Charles collaborates with Olivia Jones and Jez Matthews to produce a live event on Saturday, August 7th at The Leopard. Protesting the status quo, the event will have a variety of artists immersed and performing within the crowd, producing a culture clash of music and exploring sound in different formats. Musical guests will include Paul Parlyb Brown, Tim Cook, Simmeon Naphtali, Jordon The Ego, GSD.

Film screenings

Artbomb will feature film screenings and discussions followed by Q&A sessions with the filmmakers which investigate questions surrounding cultural identity, perceptions of race, colonialism, the climate emergency, gender and sexual identity. With films created by Fluidity and Bi-Polar Abdul, Chooc Ly Tan, Angela Robson and Lorna Collins and Wayne Sables and a special film screening by Eelyn Lee of her new film Casting Fu-Manchu, which will feature a special appearance by actor Elisabeth Gunawan. Film installations also featured include those by Ryan Harstone, Raiche Kotaiche, Filipos T and Aaron Willliams.

Workshops and other public interaction

Re-vision is curated by Art of Protest Projects and The Point. As the Point is currently closed, the exhibition has been digitised for online exploration. Take a tour around the gallery through images and videos to find out more about the creation of street art in Doncaster and the muralists who brought their art indoors. This exhibition features original artworks by internationally acclaimed artists STATIC, Paul Luke and Natasha Clarke, who have all created large-scale installations around Doncaster. Their aim is to make art more accessible and engaging for a wider audience.
Colours is the first of a developing program of interactive and engaging art activity to be held in Doncaster's Market Place, opening on August 6th. The iconic Corn Exchange building will host nine artists selected by young organisers of Colours, GSD. Visitors will find digital animation, videography, mixed media, photography and illustration which will fill the mezzanine, re-vitalising the Corn Exchange to become a place where experimental art can be enjoyed. The artists will respond to this through the creation of interactive individual environments that visitors can wander through. Birdsong artist activations will take place every Saturday during August and September and will feature various workshops by Sarah Villneau, Raj Madaan, Sacha Grey, Warren Draper and Mandy Keating.
Previous ArtBombs
Artbomb Building Based
Artbomb was an idea that grew from a conversation between how we could broaden perceptions of what art can be and come together to make a series of disruptions in space. The first Artbomb was a take over of studios in Cleveland street in 2019, demonstrating collaboration of artists in Doncaster. Led by the New Fringe and with the collaboration of Doncaster Creates and the support of partners such as Right Up Our Street the artbomb has found its form in a number of different situations.
Artbomb@home
A collection of works made in artists homes, and bought together in a portal which leads to the individual videos, click to go to portal.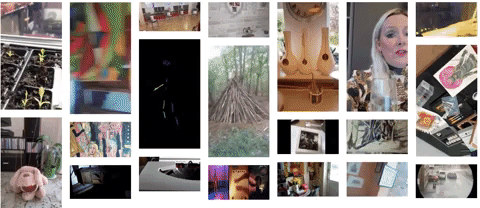 Artbomb Text&Image
A series of investigation by artists in Doncaster into the use of text in visual artworks. Made with the support of Right Up Your Street.