Baxter Park is changing.


An aerial overview of the Baxter Park artwork
A
rt of Protest (AOP) Projects, in partnership with Doncaster Creates, Doncaster Council and with support from the Arts Council and external grant funding, is excited to announce the reimagination of Baxter Park in Doncaster through the use of urban art, sustainable oak structures and finished with naturalisation and grassing of the surrounding space.
A park in Doncaster is the latest canvas for street artists Craig Evans and Tom Jackson, who work together under the name Static The Scarborough duo are working with Doncaster Creates and AOP Projects on their first major paint project in the north of England. This follows exhibitions in Asia and the U.S as well as a high profile presence on the London street art scene.
In the news



Local coverage of the work so far, with an article giving an overview, literally. Check the article out to get a deep dive into how the park is progrssing and the impact it is achieving with local residents.

https://www.doncasterfreepress.co.uk/news/people/doncaster-park-gets-a-vibrant-and-colourful-makeover-from-professional-artists-3277976?fbclid=IwAR1Q0EuxO_pQ5spPxjr_l6P42yhUfeggcDxeXd-JPgEwCKzra2THBt95u_I




The project, has seen the creative pair undertake phase one of an ambitious scheme, starting with an end gable paint which forms part of a wider scheme next year, devised through engagement sessions with the public including local school children, about how best to uplift this park and imagery.

Static write, Like many of the locations we have been invited to paint in the last few years, Baxter Park is a communal space somehow missing a community - a shadow of what it might have been in the past.



From what we learnt by speaking with some of the local residents from Baxter Avenue during our stage #1 paint on the end gable, many people no longer feel connected to the park area, which has become a meeting place and hang-out for drunks and drug dealers, resulting in a space that has been lost and perceived as neglected by the local community and the council.

What we have discovered from working on this project with Doncaster Council, Doncaster Creates and Art of Protest Projects, is that there is a desire to see change and foster a new vision of how spaces like this can be reclaimed. Combined with the integration of re-landscaping and the introduction of growing schemes in collaboration with sculptor Lewis Morgan, a sense of positivity can already be felt about the future of the area.

From the school children who participated in the workshops to the parents and adults that stopped to talk to us and ask about the project - it was apparent that given the chance to reconnect with this space, people of all ages will respond and engage with ideas, inspirations and aspirations regarding the changes they want and need.

By simply 'painting some walls', we have noticed on many occasions that it triggers a response. It demonstrates that there are people (artists like us working with collectives and individuals, councils and places of education) who care and are willing to spend time and energy on transforming places. In turn this may inspire and nurture others with a positive attitude engendering a sense of pride in the places we live and share, with our neighbours and the community as a whole.


Local resident, S.Q. of Baxter Avenue, said:

"it's pretty! People seem to like it and it has already brought people together, it's amazing how art can make a difference like this and I hope this stops people drifting away from the area following a bit of anti-social behaviour around here recently."


The project will finish next spring when the artists complete a colourful horizontal floor mural, Other parts of the initiation plan include a re-landscaping of the park to include rebedding and redesign of the play area, as well as new seating equipment designed by local artist and sculptor Lewis Morgan".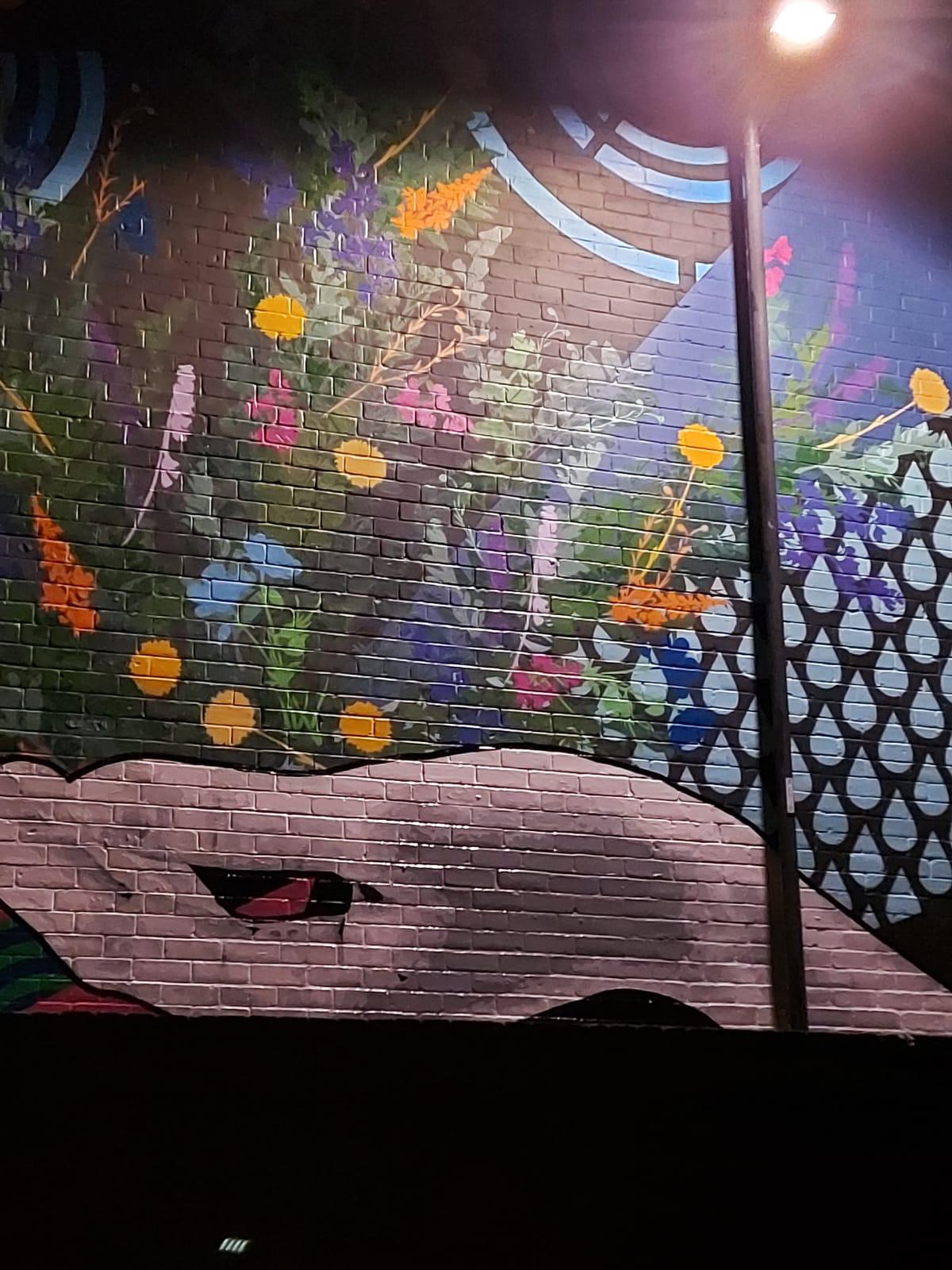 Benches
The transformation at Baxter park continues, with the progression on specially commissioned benches from creative 'Lewis Morgan'
https://www.lewismorgancreativetimber.co.uk/seating-and...
.
A maker and sculptor who works with wood. His conviction to working sustainable has fed into many ingenious and original works. He often works with schools to realise many sculptural and practical forms.