Doncaster Creates - 'a dynamic arts programme beginning in 2020, will reveal and nurture the creativity that Doncaster has and hosts – developing ideas for the future, talent, skills, new audiences and participants. People from all backgrounds will experience world-class arts that they will remember and act upon: people re-imagining - regeneration through great art'
Mike Stubbs (Creative director)
Juliet Farrar (Executive director)
'Doncaster New Writer Programme' - 26th November 2020 - 20th March 2021

As Booker's 'Out of London' partner, Doncaster will be hosting a series of events through the Doncaster Creates initiative. Following on from the announcement of the Booker Prize winner, 19th November, and as a continuum from the Doncaster Hosts Booker 'Open Mic' Event on 26th November, the search for a 'Doncaster New Writer' will be announced 'Doncaster New Writer' is the opportunity for people from Doncaster (a 'not previously professionally published' writer) to be mentored by Fiona Mozley - shortlisted for the Man Booker Prize 2017.
An open call for submissions from potential mentees (living in or from Doncaster) will be officially launched on 26th November (at the Doncaster Hosts Booker 'Open Mic' event) and will be championed across Doncaster by our wide range of creative, community and education partners. Submissions, samples of work and a statement regarding how the programme will help personal development as a writer will be received by
Monday 11th January 2021.
We would emphasise that the timeline proposed for the menteeship obviously does not allow for the production of a whole new work. Instead, it might be about :
- opening chapter(s) and /or scoping a 'whole work', progressing something previously started or a short story.
To be considered for the programme, the submission requested would be:
-
500 words describing the project
the Writer Candidate intends to work on with the Author Mentor, what they hope to get out of the mentoring programme, and what sorts of writing they have done so far;
-a sample piece of work of no more than
2,000 words
-
absolute maximum;
if the type of writing the writer candidate does is much more concise (which is very welcome) the submission can be much less - there is
no minimum.
The Author Mentor will be looking for quality and not quantity.
The programme offered by the Author Mentor will consist of :
a)
Preparatory Tutorial
- mentee submits and talks through proposed project (including how they arrived at the proposal, perceived challenges and desired outcomes / directions of travel);
b)
'Work in Progress'
tutorials 1 & 2 - progress check coaching sessions;
c)
Final Work Review
- a chance for the mentee to receive final notes on a 'close to final draft'.
Announcement of the award of the menteeship, selected by Fiona Mozley as Author Mentor will occur in early February 2021 - both finale and legacy of our 'Doncaster Hosts Booker' partnership: A small event to celebrate the resulting work will take place
e.g. Doncaster New Writer - 'In Conversation' with Fiona Mozley.
"To apply, email
booker@doncastercreates.org
with your material."
The World Through New Eyes
Doncaster Remix is an ambitious & playful programme of arts events and commissions that takes the town as site & surface for new work. Using an open curatorial method, it creates an opportunity for people to propose & make new work. We want Doncaster in the public gaze, locally, nationally and internationally, we want to question how public art is viewed in Doncaster & beyond, to explore the 'grit & grandeur' of the town. We want to achieve an impactful project that enables people to feel agency and to present new viewpoints of Doncaster from diverse often unheard perspectives and new ways of experiencing the town as we consider a new green deal and life after lockdown.



TRAFFORD WAY: major mural by Nomad Clan
BAXTER PARK: urban art & growing refurbishment of Queen's Road play area
SYMPOSIUM: 'What is Public Art & When is Art Public? (local to national reach)
EXHIBITION at DARTS: Nomad Clan's work & talent development
COMMUNITY WORKER TRAINING: murals, urban art & creative growing
MATTHEW ROSIER COMMISSION: exploring challenges of heritage & place
BIRDSONG
ARTISTS



This is a mini feature on the Birdsong Projects as they develop, starting with some that have already begun which respond immediately to our original provocation, 'Birdsong on the Planet of the Apes', written in a period of early Covid19 uncertainty, and now as we adjust to 'distancing', we tentatively learn new customs, reassess our values along with the practical expressions of what is permissible and safe such as elbow bumps. Beyond these new social codes and customs, how are we feeling our way back into a sense of community? How are we adjusting and coping with the cracks exposed when change occurs on a radical level ? How will the artists produce relevant new work ?

The artists featured here explore and enact how life is now, helping us on a journey to learn who we are now and what parts of our life we might be happier to leave behind. In asking deeper questions that have been highlighted by Covid19, they capture our condition through different artistic approaches and offering alternatives to how we function through adverse times.



Mikes Stubbs (Creative Director)



Natasha Clarke
Thrive
Natasha Clarke is a Doncastrian Street artist and currently researching the site for her Birdsong Commission painting.
Together we rise.
I never thought I would get to paint for my hometown, Doncaster. I feel honoured to be contributing to the community.
Thank you everyone who helped with the project and the lovely feedback I've received over the past four days
Warren Draper
Unbound Arts
Warren Draper is an artist whose practice has central social and environmental concerns. He writes of his Birdsong commission.
As an industry, the arts have been decimated by the Covid-19 crisis. Many of us are self-employed creatives who could not work and unable to practice that which is both our passion and our livelihood.
Sarah Smith (Smizz)
Networks of Care
Sarah Smith is an illustrative-mapper, qualified radiotherapist and is undertaking a practice-led PhD. views. She is better known as Smizz and writes of her approach to the commission.
Doncaster Free Press in an article on Smizz gives an update on her project:
'Sarah Smizz decided to make holographic stickers with a powerful message whilst at the same time raising money for a food bank based at Bullcroft Memorial Hall in Carcroft.'

Sarah Villeneau
The Ground Beneath Our Feet - work with Asylum Seekers during lockdown 2020 - 2021
Working remotely with several asylum seeker families and individuals over the second lockdown, I delivered packs of clay and tools to their homes, with many a long chat on their doorsteps. They were given written and illustrated tips on how to work with clay, a couple of making videos to watch and we had a whatsapp group for any questions. Zoom sessions weren't possible as they did not all have internet access. I look back in astonishment now at how anxious I was about how they would respond. I really needn't have worried. They embraced the project with such enthusiasm that it became a much longer project than I had envisaged, and some are still making, six months down the line. Several are keen to learn more and one woman would like to become a potter - she's now been granted asylum, so I hope that, once she's settled in her new home she will be able to attend classes. None of them had ever worked with clay or done anything that they classed as art. And despite English not being their first language, the feedback they gave was so articulate and thoughtful. "We were thinking through our hands." "We learnt through our mistakes - we made over and over again and realised that 'Si tu veux, tu peux'" "It takes away stress - it makes you think of positive things - you think about what you're going to make and how, instead of thinking about the things you cannot change." "I'm having so many ideas - anything I see now, I think, how can I use the clay to make this?"
The 'stones' were made by me using a variety of different clays - some locally dug, some groggy, some not. They were squeezed in the hand by the participants to leave the imprint of their touch. They are a symbol, amongst other things, of the beauty in diversity. The project will be exhibited in Doncaster later in the year. Watch this space!
With thanks to Doncaster Creates
Angela Robson

The Disappearance of Emily Pear.
Angela Robson (film-maker) is a Doncaster-based award-winning creative arts practitioner, journalist and film-maker with fifteen years experience working on creative projects in the UK and overseas.
This short film tells the story of a teenage artist torn between submission to mental illness and a yearning for an alternate universe.
Amelia Lonsdale

Residents of Bentley often say, "you could build a wall around it and you would have everything you need". It's high-street is filled with local eateries and shops, salons, a post office, chemists, multiple schools and churches
It does not seek to come to any significant social or politically motivated conclusions but, is simply a reflection of my interests in suburban landscaping and a way of integrating and communicating with my new space. Created during the Covid-19 pandemic, the project is a visual diary of my world. The small thoughts, simple pleasures and observations that now make-up the foundations of my day that have become increasingly significant to me during the COVID pandemic and lockdown.
Les Monaghan

The texts are being created by asking those in Doncaster who are rarely asked, and never heard, 'where do we go from here?' Those who are rarely asked for their views are young people, the disenfranchised, those living on the margins, those right now who are too busy keeping things together at home or at work. I have worked with some of the participants before in other creative projects that have also been about voice and it is really interesting to hear their individual and somewhat changing views as we move through the era of COVID. They are the Invisible Vox Populi. As I produce The Invisible Vox Populi, I'm thinking through ways that they can be presented to the public in a COVID safe way, I'm currently experimenting with the work being hung on school railings at school pick up time, pop up style and am continuing this with different schools over the next few weeks.
Sacha Gray

A part of The New Fringe art organisation and has directed the organisation toward a more varied membership in terms of art practices and age groups.
Sacha writes, With my Birdsong project, myself and a group of children explore ecological issues through making art with the intention of speaking loudly and playfully through the art we make, in response to the devastating funding cuts to the arts within the education system at a time where children need art to make sense of their world and future.
Mandy Keating

Her background is in Graphic Design and started her freelance career as a book and paper artist. She will concentrate on one very small area of Doncaster, known to her, it is a square in Kirk Sandall, with houses around its edge and a green in the centre.
Commenting on the developement so far, Mandy says:
"While we've been in lockdown I've been concentrating on the visuals for the website that could also be standalone artworks....What this project has done to date for me personally is to find out a lot more about my own family - stuff I didn't even know about. I've also had to learn more digital stuff, which has been brilliant for me."
James Lockey

A filmmaker and musician from Doncaster who has worked with many bands producing music videos, music documentaries and live visuals for tours including Lana del Rey, Editors and Mogwai.
Through the use of image manipulation software and traditional filming techniques his idea is to create a series of short hallucinatory vignettes featuring Doncasters architecture and people in everyday movements and actions.
Rajnish Madaan

Is a local filmmaker and editor producing work for over ten years. Jodie Williams is an Equality, Inclusion and Diversity professional who has worked across various sectors with the aim of making businesses and services more accessible and inclusive. Jodie is also the Leeds Melanin Festival Director, a series of events celebrating communities of colour and Black history.
The Podcast is described as:

Welcome to White Privilege Drama. A series of short audio dramatizations reflecting on the real experience of what it is to be Black in Britain today.

The series was written by Jodie Williams and produced by Rajnish Madaan.

Seed funding came from Doncaster Creates and the series is created by South Yorkshire artists.
iTunes:
https://podcasts.apple.com/.../white.../id1562154758...
Spotify:
https://open.spotify.com/show/0jHcyZbX9Goo4scRTAIsrA
Google:
https://www.google.com/podcasts...
Vicky Morris

Vicky Morris is a writer and creative practitioner working across South Yorkshire. She's the founder of Hive South Yorkshire and co-founded Doncaster Young Writers in 2010.
Novelist Arundhati Roy Brave New Words offers a series of creative writing workshop for younger people in Doncaster (in two age groups spanning 15-30), exploring Roy's idea of stepping into a new way of seeing and being.
These are some of the outcomes, as they come to the end of their commission.


Breaking Beats Ltd Ian Byatt

Breaking Beats is a not for profit venture formed in 2014 working within the Community Arts environment
in the Doncaster area. The main aim is to fill the void that is currently left within sections of the community to engage with disenfranchised members of it, creating diversionary activities.
They propose to work in the community of Denaby with the young people who reside there to record several one hour radio shows which will be aired on DN1 live.
Ryan David Harston

URBAN conceptz theatre is a visual and physical theatre company set up by multi-award-winning* artist Ryan David Harston. His work as a theatre director consists of original storytelling, poetry, and spoken word.
He wants to create a thought-provoking, exciting, and immersive art exhibition in a derelict or unoccupied building in the center of Doncaster.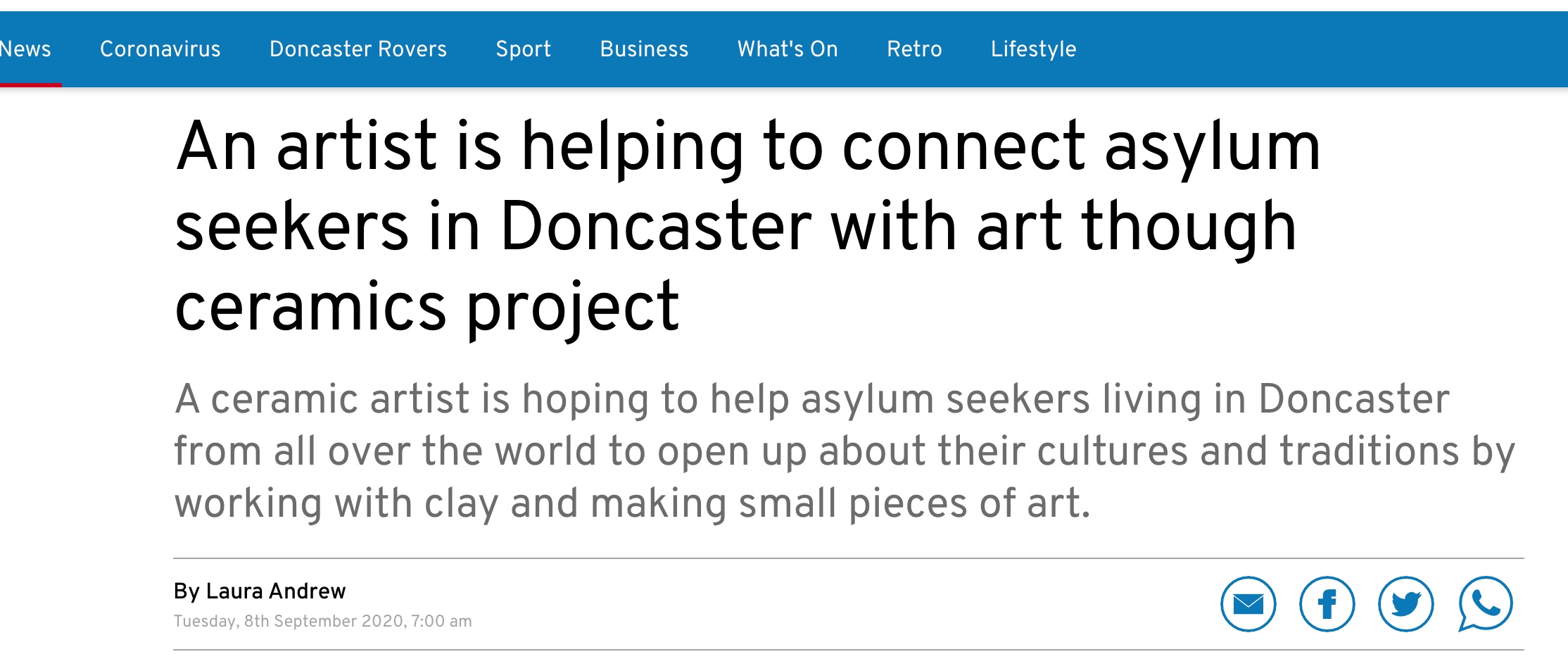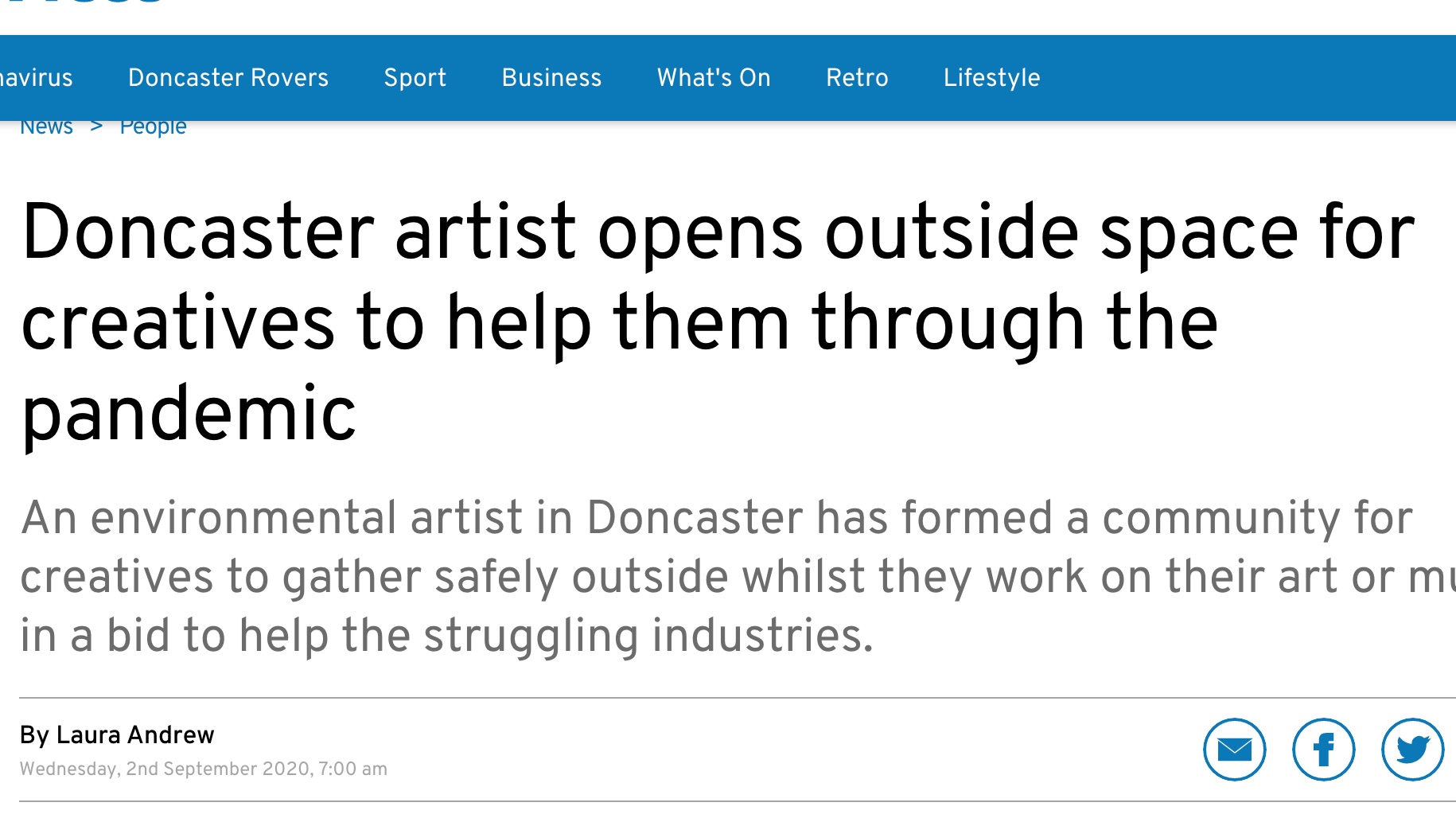 Natasha Clarke
Warren Draper
Sarah Smizz
The stickers are holographic.
Sarah Villeneau
Sarah Villeneau - made hollow 'stones' with clay and refugees she was working with were asked to squeeze them in their hands making an imprint of their touch. These will be displayed together in the upcoming Birdsong exhibition
Sacha Gray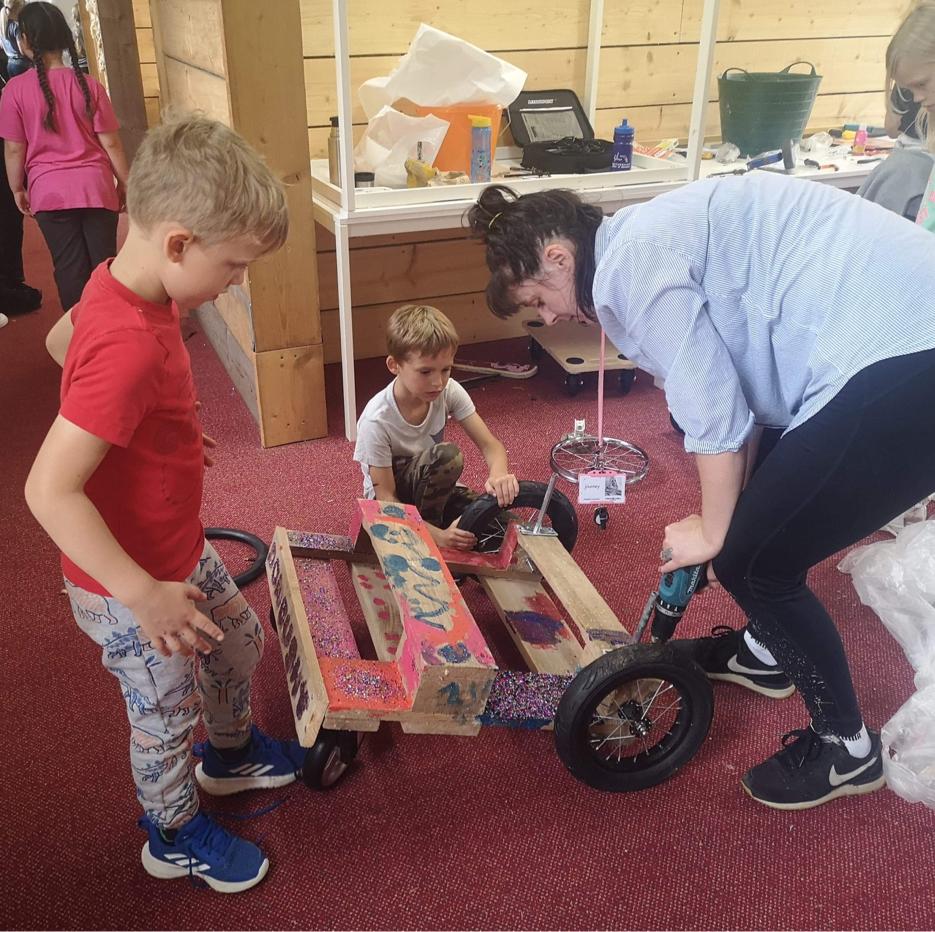 Les Monaghan
Amelia Lonsdale
Above one of Mandy Keating's finished digital diorama style 2d images. She has 6 more of this style that document all the connections and historical info linked to people who live in 'the square' Kirk Sandal, Doncaster.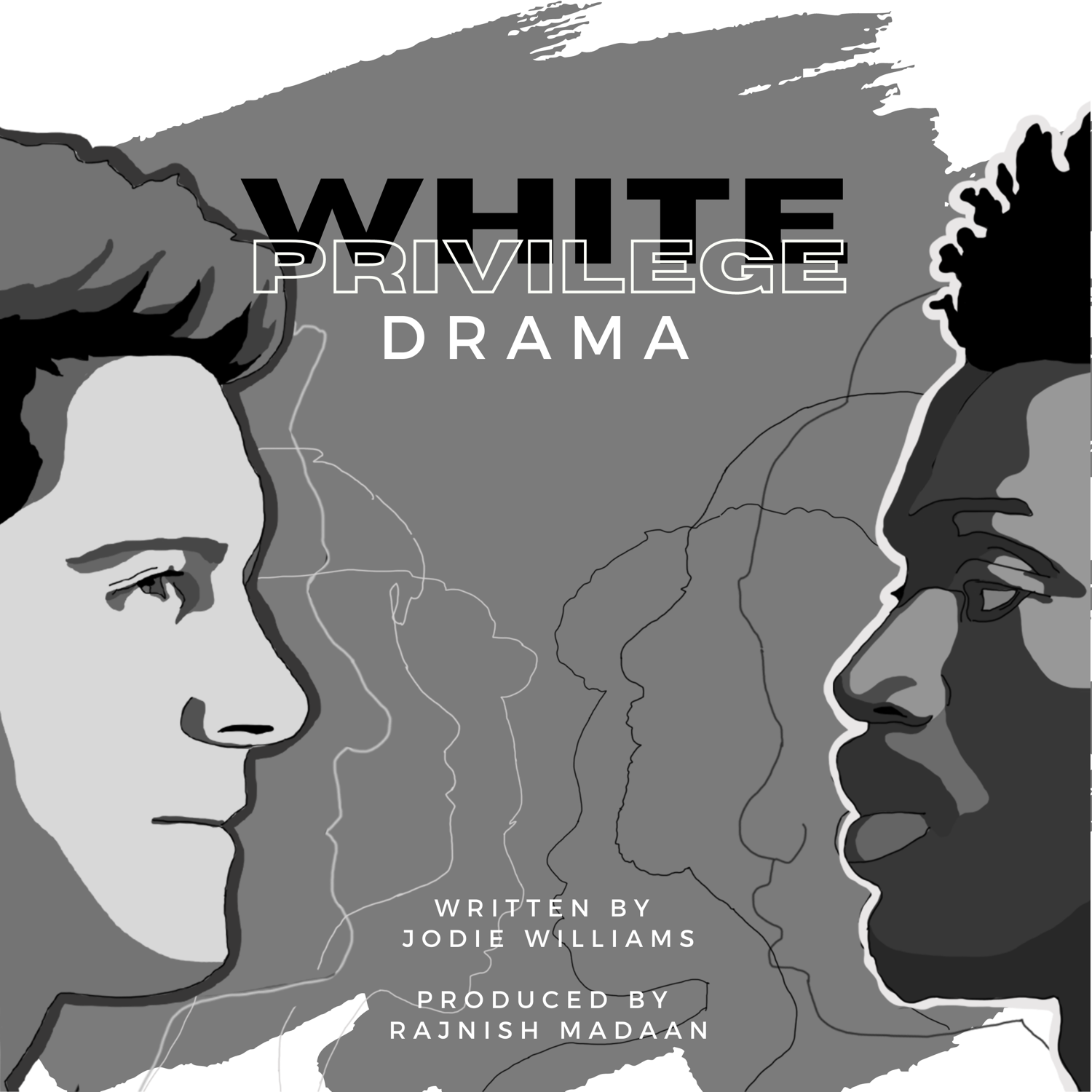 Rajnish Madaan podcast:
Press Coverage - click to go to story.
Designs for Baxter Park







Baxter park phase 1




A park in Doncaster is the latest canvas for street artists Craig Evans and Tom Jackson, who work together under the name Static.
The Scarborough duo are working with Doncaster Creates and AOP Projects on their first major paint project in the north of England. This follows exhibitions in Asia and the U.S as well as a high profile presence on the London street art scene.



The project, that is part of an initiative to breathe fresh life into Baxter Park, has seen the creative pair undertake phase one of an ambitious scheme, starting with an end gable paint which forms part of a wider scheme next year, devised through engagement sessions with the public including local school children, about how best to uplift this park and imagery.

Static write, Like many of the locations we have been invited to paint in the last few years, Baxter Park is a communal space somehow missing a community - a shadow of what it might have been in the past.

There are signs that show some attempt has been made to encourage use of the space, with playground markings for children and gym equipment for adults, but there is little evidence to support either of these things having been well used or indeed still used for their intended purpose in recent times.

From what we learnt by speaking with some of the local residents from Baxter Avenue during our stage #1 paint on the end gable, many people no longer feel connected to the park area, which has become a meeting place and hang-out for drunks and drug dealers, resulting in a space that has been lost and perceived as neglected by the local community and the council.

What we have discovered from working on this project with Doncaster Council, Doncaster Creates and Art of Protest Projects, is that there is a desire to see change and foster a new vision of how spaces like this can be reclaimed. Combined with the integration of re-landscaping and the introduction of growing schemes in collaboration with sculptor Lewis Morgan, a sense of positivity can already be felt about the future of the area.

From the school children who participated in the workshops to the parents and adults that stopped to talk to us and ask about the project - it was apparent that given the chance to reconnect with this space, people of all ages will respond and engage with ideas, inspirations and aspirations regarding the changes they want and need.

By simply 'painting some walls', we have noticed on many occasions that it triggers a response. It demonstrates that there are people (artists like us working with collectives and individuals, councils and places of education) who care and are willing to spend time and energy on transforming places. In turn this may inspire and nurture others with a positive attitude engendering a sense of pride in the places we live and share, with our neighbours and the community as a whole.

This is not something that happens overnight and we realise that each location has its own unique and individual set of circumstances, (we are all learning new partnerships, methods and approaches), but by creating something original and unique for each project, we hope to forge a new identity which can become a focal point for future events and serve as a symbol of a new chapter for those who call that place 'home'.

Local resident, S.Q. of Baxter Avenue, said:

"it's pretty! People seem to like it and it has already brought people together, it's amazing how art can make a difference like this and I hope this stops people drifting away from the area following a bit of anti-social behaviour around here recently."


The project will finish next spring when the artists complete a colourful horizontal floor mural, Other parts of the initiation plan include a re-landscaping of the park to include rebedding and redesign of the play area, as well as new seating equipment designed by local artist and sculptor Lewis Morgan".